THIS WEEK'S CRAVINGS Linky Party #57
The Theme is: French Toast, Pancakes, Waffles & More
(Please share with us your favorite French Toast, Pancakes, Waffles & More Recipes
)
Pancakes = The weekends. Saturday & Sunday relaxation time...
But for me, standing over the stove cooking pancakes and praying that they don't burn (which in my case they do... a lot), is not my idea of relaxing. It's more like panic, panic to not burn breakfast.
I do not have the patience for pancakes. Well... I do not have the patience for pancakes on the stove top.
But in the oven, I can do that.
Just like bacon. I can not cook bacon on the stove top, but in the oven I can make the perfect bacon.
Back to the Baked Cinnamon Swirl Pancakes.
So this morning I wanted Pancakes,
Cinnamon
Swirl
Pancakes. I've seen them all over the internet and I wanted them! Like now!!
When we do have pancakes, I
usually
make the batter and then make hubby cook them.
But today, hubby had to run errands real quick so I was in charge. humm.
Well I had the batter ready, and didn't want to wait.
I can do this.
3 burnt pancakes later....FAIL...
I turned the stove off and came back to the computer to look something up and just so happened to have Robin's Big Red Kitchen still pulled up from something I was looking at
earlier.
O
ut of habit, I scrolled down the page and there it was ... baking pancakes in a jelly roll pan in the oven.
Could that have come at a better time.. I don't think so.
Why didn't I think I that!
I started making bacon in the oven because I couldn't do it on the stove top, I just started using my cookie sheet with the sides to bake cakes to make Cake Rolls, why didn't I think to bake pancakes!
Baked Cinnamon Swirl Pancakes

Makes about 12 squares
(double or triple recipe for a large crowd)
What you need:
For Pancakes:
2 cups flour
4 teaspoons baking powder
1 teaspoon salt
4 tablespoons sugar
2 eggs
2 cups milk
4 tablespoons cooking oil
Food Coloring Optional, I made blue and green ones :)
For the Cinnamon Swirl:
4 tablespoons melted butter
1/4 cup brown sugar
1.5 teaspoon cinnamon
1 tablespoon flour
What to do:
For the Pancakes:
Pre-heat oven to 350F.
In a large bowl, mix together the flour, baking powder, salt, and sugar together.
In another bowl beat the eggs well.
Add the milk and oil.
Mix until combined.
Make a well in the dry ingredients and stir in liquid ingredients.
Mix until the batter is smooth. (It will be a little thick).
Line a jelly roll pan (cookie sheet with sides), with foil and pour in the pancake batter.
Make the Cinnamon Mixture:
Mix all all of the cinnamon swirl ingredients together.
Pour into a Ziploc back and snip the corner of the bag.
Swirl the Cinnamon mixture over the pancake batter.
Bake in a 350F oven for 8-10 minutes.
Remove from the oven and let cool for a few minutes. Cut into squares and serve.
(We didn't use syrup with ours, the cinnamon swirl topping was enough for us)
Show us your favorite "French Toast, Pancakes, Waffles & More Recipes" ;)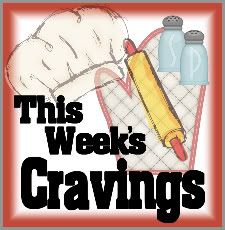 _______________________________________________________________________________

This Week's Cravings Upcoming Linky "THEMES"
December 5th - Christmas Baking, Sweets, Treats, Candy and Gift Ideas
December 12th - Macaroni and Cheese
December 19th - Christmas Dinners and Holiday Food Traditions
This is a BLOG Party hosted by
From My Tiny Kitchen
,
MOMS CRAZY COOKING
,
Big Bears Wife
,
The Daily Dish
and
Veggie Converter
.
If you are a regular link-up we're excited to see what you made this week. If you are new please read and follow the simple rules, so that everyone can enjoy the linky party! If you forget to follow the theme, your post will be deleted. Please don't feel hurt, just come back and link up a recipe that follows the theme. Thanks a million, we look forward to blogging with you!
The LINKY PARTY is opened ALL Week!
PLEASE do not link more then 3 recipes per week.
This week's theme is: French Toast, Pancakes, Waffles & More Recipes
Please only link recipes with our theme!
I'm linking this pumpkin recipe to
Eat at Home: Ingredient Spotlight: Food Coloring