{
Banana S'more Popcorn Trail Mix
}
If you know anything about me, you know that I am a sucker for anything with the word "S'more" in it.
Campfire S'mores, S'more Cake, S'more Cupcakes, S'more Poptarts, S'more Hot Chocolate Mugs,
S'more Ornaments…. yes.. I have a collection of S'more Ornaments. It's True.
So S'more Popcorn Trail Mix. Yes. I love it as well.
I've seen S'more Popcorn around before without Bananas.
For some odd reason when I wanted to make this popcorn trail mix, I had the song " Mele Kalikimaka" stuck in my head and at that moment needed a bit a "Hawaii" in my life haha. So I grabbed the closet thing to Hawaii I have in Southern Virginia….Banana Chips. These yelled "tropical" for some reason. Perhaps it was the pictures of palm trees on the bag or the sunset. Not sure, but I'm glad it did 🙂
My S'more Popcorn NEEDED THEM.
So then, I'm looking at all the popcorn choices. Ok.. like the 3 choices. Butter, EXTRA Butter, or EXTRA EXTRA Movie Theater Butter.
Eeek.
OK, maybe those are kinda good once in a while watching a movie at the movie theater, but I don't want extra buttery greasy popcorn in my s'more trail mix.
So I went after the next best thing, brown paper bags and corn kernels.
Brown paper bags + corn kernels + microwave = beautiful low calorie non- greasy popcorn.
Banana S'more Popcorn Trail Mix
Makes about 12 cups
What you need:
1 cookie tray
1 Brown Paper Bag
1/2 cup dried Corn Kernels (they come in a bag, usually near the popcorn)
1 box Cinnamon square cereal (Cinnamon Toast Crunch)
1 bag mini marshmallows
1 bag banana chips
1 cup melted Milk or Dark Chocolate
What to do:
To make the popcorn:
Fill a brown lunch bag with 1/4 cup of corn kernels. Fold top of bag over 2 or 3 times. Place the brown bag into the microwave.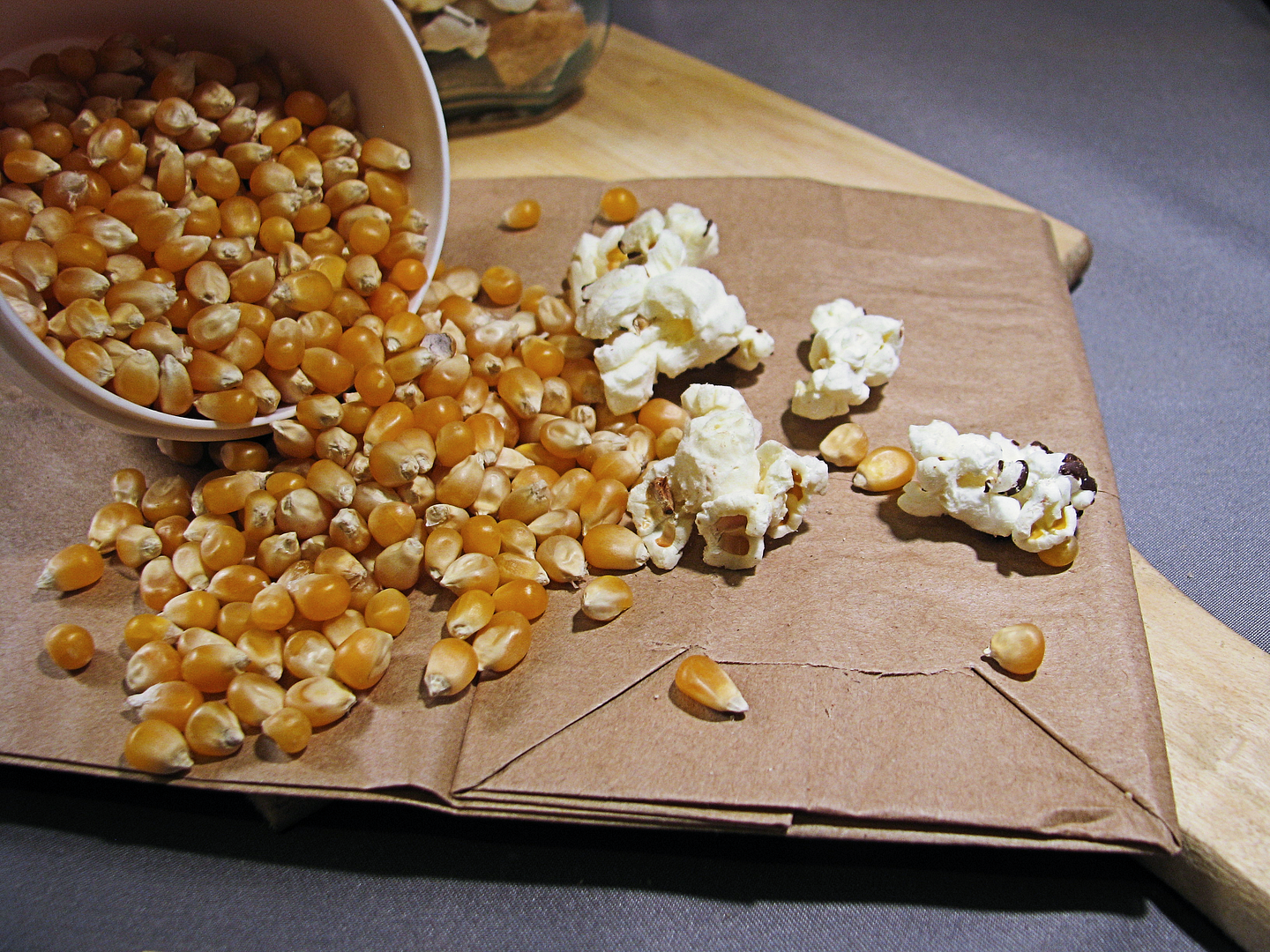 Heat for about 2 minutes. Listen to the corn popping, once the popping slows down remove the bag from the microwave and carefully open and dump popcorn out onto a cookie tray.
Melt the chocolate and drizzle it over the popcorn.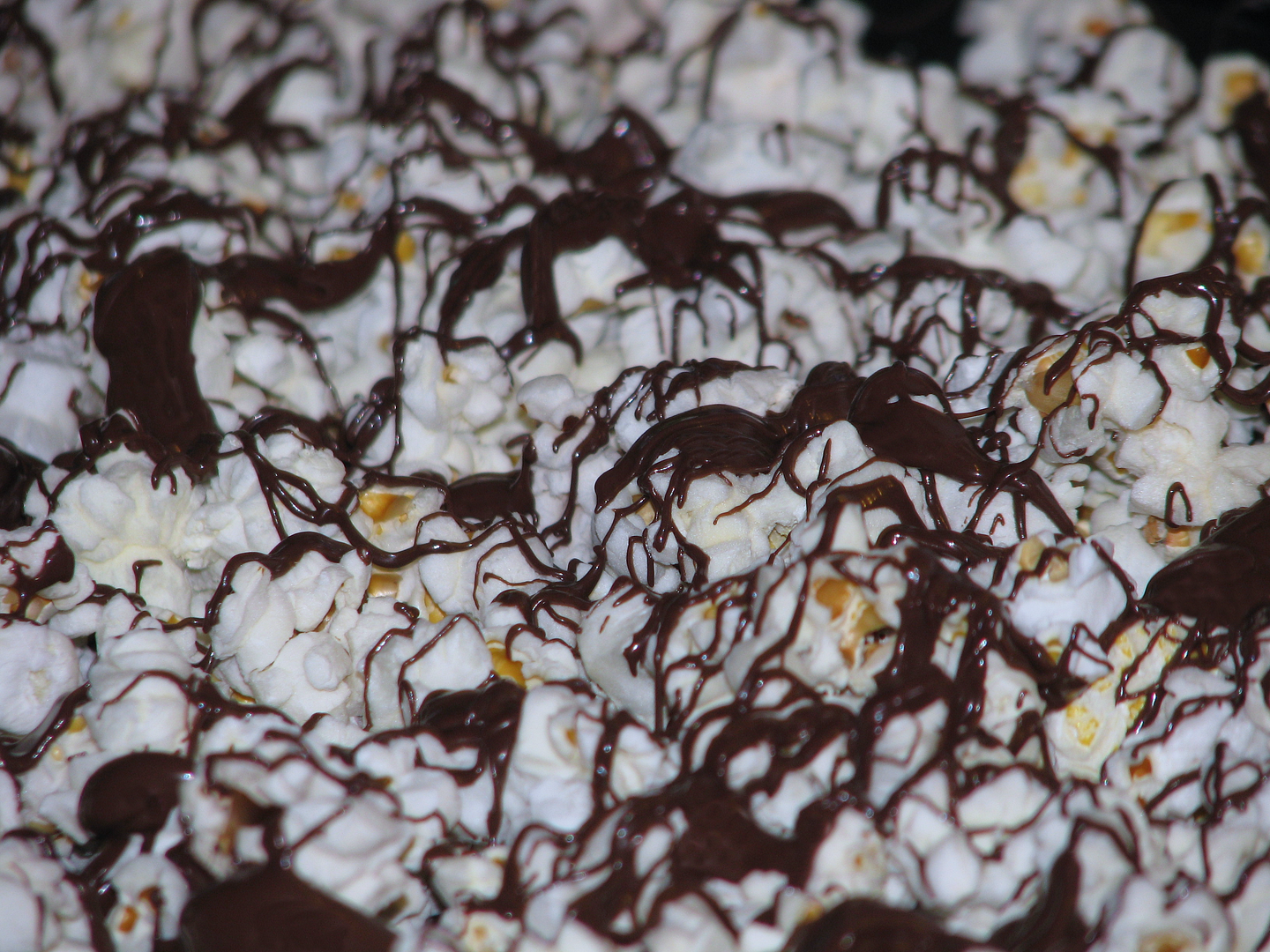 Stick the cookie tray into the fridge for about 10 minutes to harden the chocolate.
In a large bowl mix together the cereal, marshmallows, banana chips.
Remove the popcorn from the fridge and break apart. Toss into the bowl. Gently mix everything together.
**for more trail mix, try adding dried pineapple, nuts, or crasins.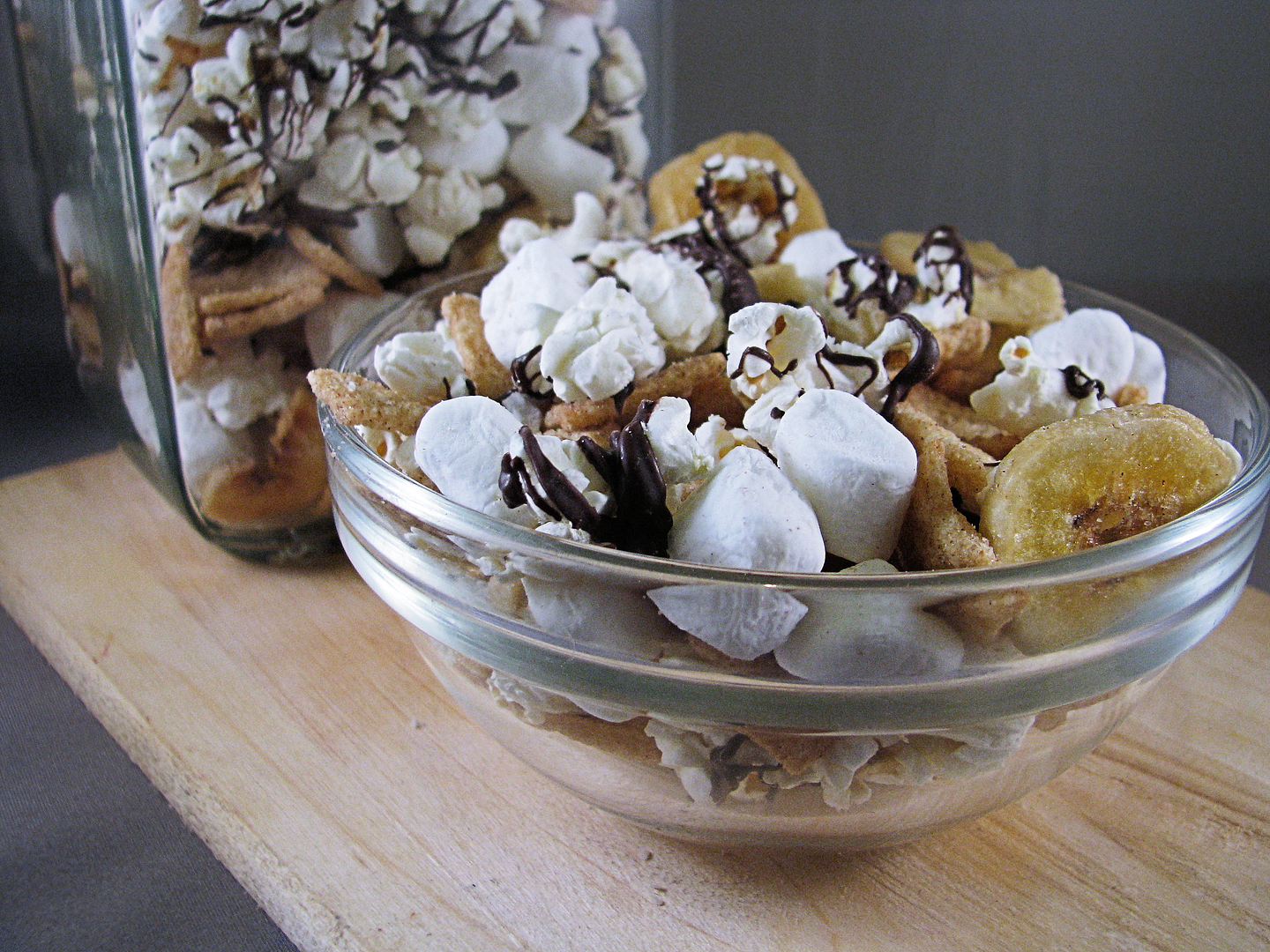 I packaged up some in glass jars for a little treat for some special people for Christmas 😉

I'm linking this banana recipe to Eat at Home: Ingredient Spotlight: Bananas