{
BBQ Chicken Tenders and Rice over Steamed Spinach
}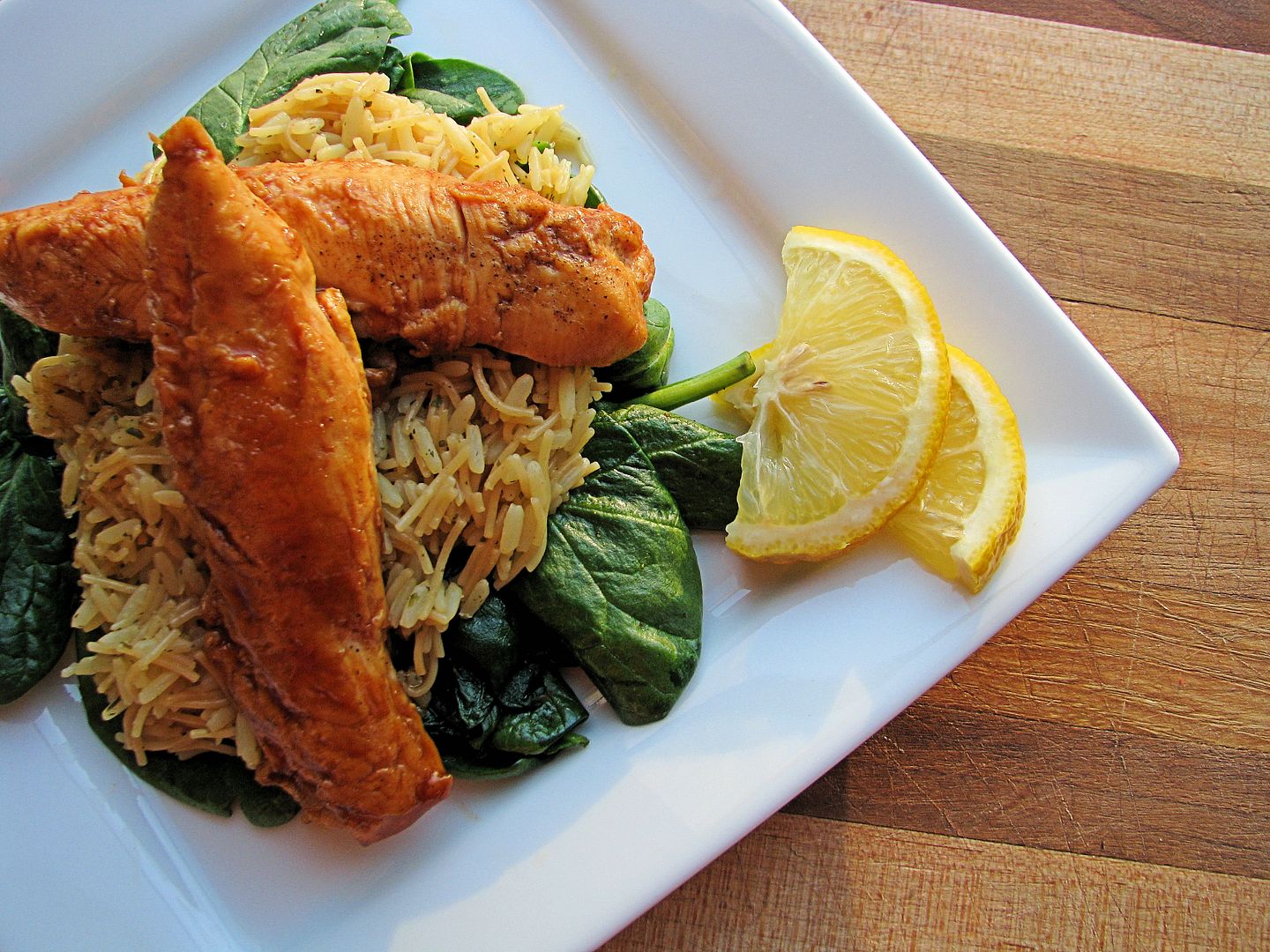 As much as I enjoying being in the kitchen, I also love it when I come home from work and hubby is already in the kitchen making something for dinner. He's been trying new things, and he even talks "foodie" with me. Other foodies will understand how great that is! When we got married, hubby was a meat and potato guy. I had to hide his vegetables in cheese and pot pies to get him to eat them. Now he's eating steamed broccoli, cooked carrots, and sauteed spinach. Never thought that would happen!
This is a dish that he was putting together when I got home from work the other day and I just had to share it with you.
Hubby is not a recipe guy. He's a "little bit of this, little bit of that" kind of cook…and sometimes those turn out to be some of the best dinners. 🙂
BBQ Chicken Tenders and Rice over Steamed Spinach
Makes about 3-4 servings
What you need:
6-8 chicken tenders
1/2 cup BBQ sauce
1 large bag Spinach leaves
Olive oil
Salt
Pepper
1 box chicken flavored rice (we used Goya chicken flavored rice)
Lemon/Lemon Juice (optional)
What to do:
Cook rice according to package directions.
In a large skillet, heat 1 tablespoon olive oil medium-high heat. Season chicken tenders with salt and pepper.
Cook chicken for 3-5 minutes until lightly browned, flip chicken and cook for another 5 minutes.
Add BBQ sauce to cover chicken and reduce heat to low. Cook for 8-10 minutes until chicken is done.
In another large skillet, heat 2 tablespoons of olive oil on medium heat until hot. Add spinach leaves. Toss to coat.
Sprinkle with salt and pepper. Cover and let the spinach leaves wilt for 2 minutes.
Remove lid and toss. If you want the leaves to be more wilted, let the spinach cook longer.
To plate:
Place wilted spinach leaves on the plate. Squeeze a little fresh lemon juice onto the spinach. Add a layer of rice. Top with 2 BBQ chicken tenders.