Bella Chicken
I've been working on re-creating restaurants entrees lately, because even though we like to go out to eat, sometimes it isn't always in the cards for us…. time.. money…calorie counting, whatever the reason sometime eating out isn't going to work for us.
So I've been browsing restaurant menus online and found Bella Chicken from Ruby Tuesdays and it sounded pretty good 🙂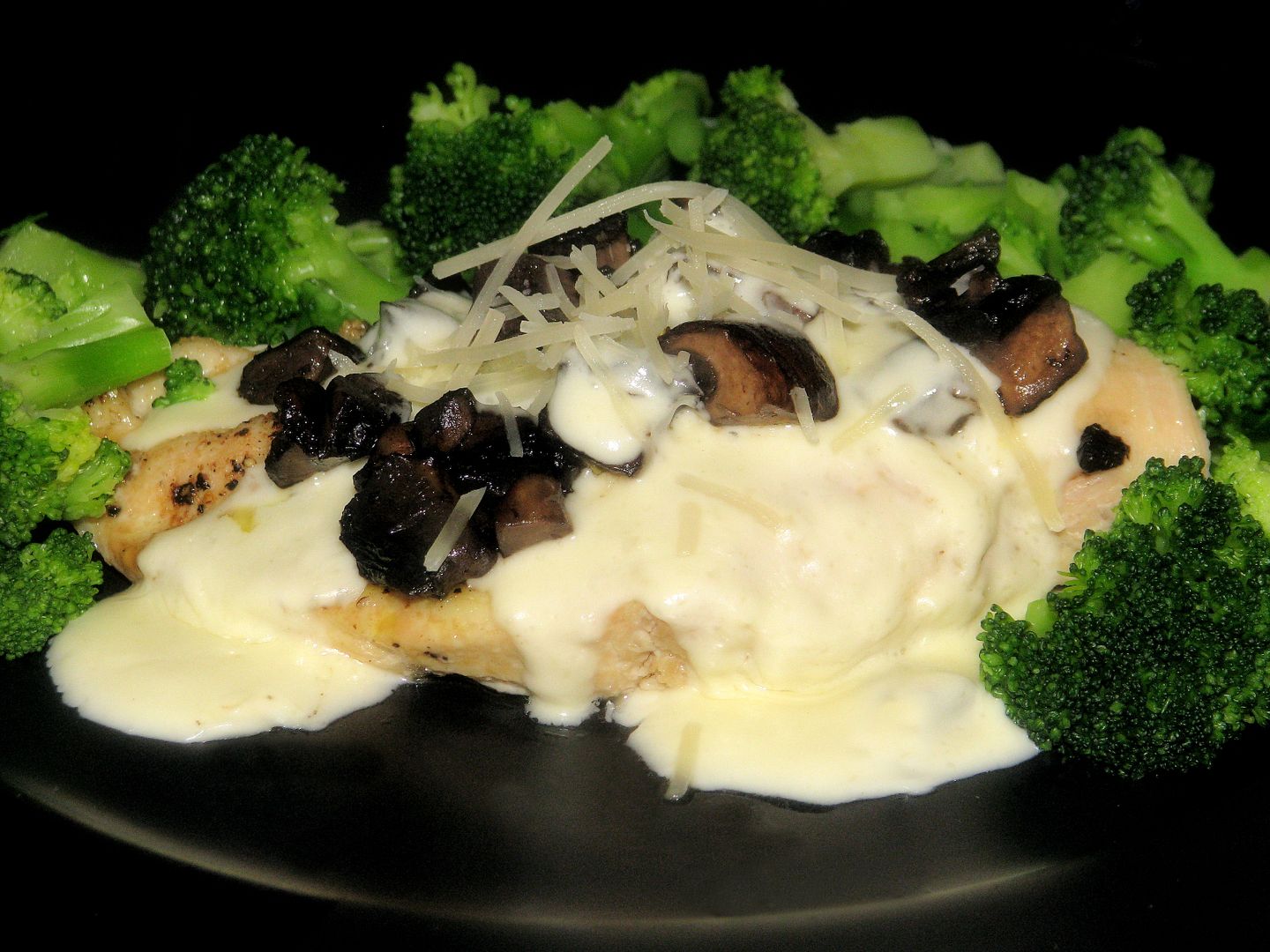 Here is Ruby Tuesdays Description:
Chicken Bella
Sautéed baby portabella mushrooms and artichokes in a Parmesan cream sauce over a fresh, grilled chicken breast.
• with white cheddar mashed potatoes and fresh, steamed broccoli
For Ours We didn't have Cheddar mashed potatoes for a side, just the steamed broccoli, and I also didn't have any artichokes so none were added in my version.
I don't know if this is anything like the one at Ruby Tuesdays, because I've never had it there. I am just going by the descriptions on the menus to create something wonderful at home.
4 skinless boneless chicken breast
Parmesan Cream Sauce (Recipe below)
Parmesan Cream Sauce Recipe:
Place your chicken in a oven safe dish and drizzle with olive oil.
Sprinkles each side with pepper, salt and garlic salt.
Bake Chicken for 30-45 minutes or until done.
(If you don't want to bake your chicken you can always grill it until it is done,)
To be sure that it is cooked thoroughly, use a instant digital thermometer for the proper temperature of 165F
Saute your mushrooms in butter until done.
Over Med-High Heat, melt butter in a sauce pan.
Add flour and whisk for 1 minute.
Add cream and Whisk for 2 minutes.
Reduce the heat and stir in cheese.
Stir until cheese is completely melted.
Top chicken with a few sauteed mushrooms, pour on cream sauce, sprinkles a few more mushrooms onto of sauce.
Sprinkle Parmesan cheese onto, add broccoli to the side and enjoy!
I'm linking recipe to Eat at Home: Ingredient Spotlight:ingredient spotlight: olives/mushrooms/artichoke hearts/pimento!