SmokeHouse Melt
&; a 100 Followers Giveaway!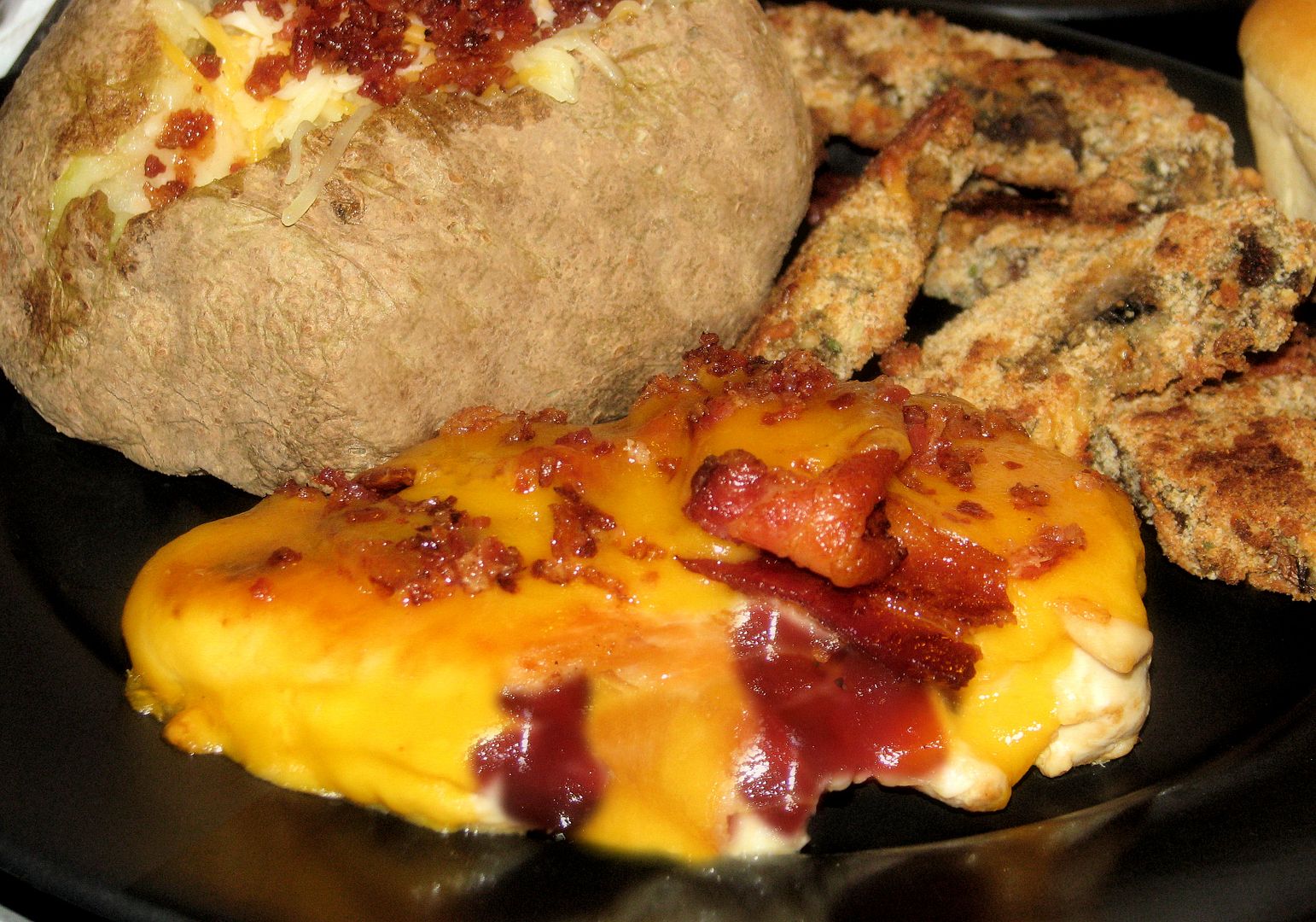 Sometimes, going out to eat is a blessing. No planning, no cooking, no dishes, but on the down side, you have loud people to deal with, pricey meals, sometimes rude servers and the cost of using the gas in your car to get there. (Pretty big deal to us because we live 30 minutes from the city). But sometimes its nice to be able to make those same meals from home 🙂
I love taking Restaurant dishes and making them at home. Cheaper, Quieter…and sometimes its the only way I can get something that has been taken off the menu at a restaurant I like or if the place closed.
For instance, I use to work in a restaurant called Rockola. They've pretty much closed all of their restaurants except for one that is about an hour and a half from us. (Yeah not my kinda dinner travel). So if I want anything that was on their menu I have to make it at home.
This use to be on their menu:
The SmokeHouse Melt:
Grilled chicken topped with bacon strips, barbecue sauce, melted Cheddar cheese and tomatoes. Served with a hot, baked potato and homemade baked beans.
So hubby and I recreated it at home.
and a baked potato with ours and I didn't have tomatoes either )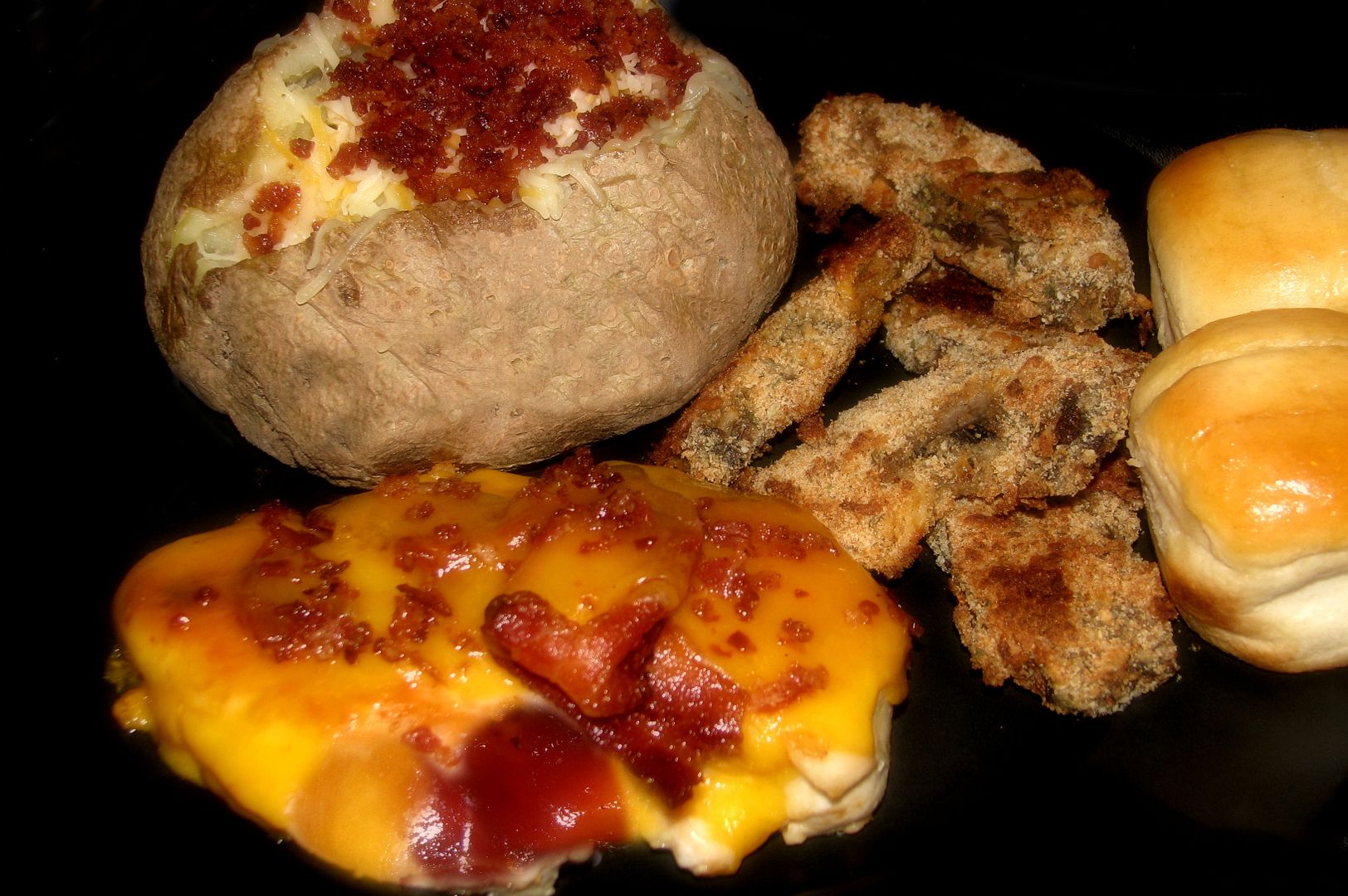 (Quantity depend on how many people you are feeding, we were feeding 2)
2 Skinless boneless chicken breast
4 strips of bacon, plus 1/4 cu[p crumbled bacon
4 slices of cheddar cheese (or enough to cover the top of chicken) (I bought a block and sliced on pieces)
Grill the chicken or bake it until it is done. (Season with salt and pepper if desired)
We used our George Foreman grill to grill our chicken.
Turn the broiler on for your oven.
Next Place chicken on a baking sheet. Using a spoon or a basting brush, brush BBQ onto each chicken breast.
Place 2 strips of bacon like an "X" on top of the BBQ sauced chicken.
Lay slices of cheese over the top of the bacon "X". Sprinkle with Bacon crumbles.
Place under broiler in oven for about 5 minutes or until the cheese is melted.
So the day has come that I now have 100 Followers on Google Connect! YAY!
First Off, Thank You! Thank you to all my readers and followers!
Giveaway is over, Thank you to everyone that entered 🙂
This giveaway is from Me-Big Bears Wife. Country Bob's Did not sponsor this giveaway, probably doesn't even know about it lol 🙂
Second, I have a small give away for you to celebrate 🙂
1 bottle of Country Bobs All Purpose Sauce
(which I use for BBQ sauce)
(a favorite in our house!)
We first learned about Country Bobs All Purpose Sauce , when they offered to send us gift baskets as raffle items for our Leukemia walk and for our local Fire Dept!
They are an awesome company with awesome products.
We love their All Purpose Sauce and I'm sure you will too! So I want you to be able to try their sauce!
Try it with this Smokehouse Melt Recipe or your own favorite
Dish!
How to enter to win:
#1. Leave me a comment telling me your favorite BBQ recipe or favorite BBQ Food, OR what you would use the All Purpose Sauce For.
For Additional entries (leave a separate comment for each one)
**Become a Big Bears Wife Follower or let me know if you already do follow me.
**Tweet about the giveaway
**Facebook about the giveaway
**Share the giveaway on your blog or site
New Date
ENDS FRIDAY JUNE 3rd at 5pm EST!
(fixed mistakes in the giveaway end date and item info. so I moved the date back incase anyone eles wants to enter, sorry)
One Winner will be selected through Random.org!
Good Luck!