Perfect combination of cake, cupcake and cookie sandwich. mmm I love cookie sandwiches.
So as I'm walking down the baking aisle at the store the other day a box catches my eye, "Whoopie Pie Kit".
Two Steps Back.
Humm. As much as I love whoopie pies, I am not really a fan of the list of ingredients one needs to make them or the buttermilk used in the normal recipe… I mean really what am I gonna do with half a carton of buttermilk after making them. But anyways.
So I check out this box, and yeah….. All it is cake mix and icing in a decorative box that says "Whoopie Pie Kit"
Bummer.
I have cake mix at the house and icing and who would-a guessed… a whoopie pie baking sheet . Lucky Me. 🙂
But I wanted these to be special and yummy, not just plain cake and icing.
So with a can of pumpkin, these turned into delicious Chocolate Pumpkin Cake Pies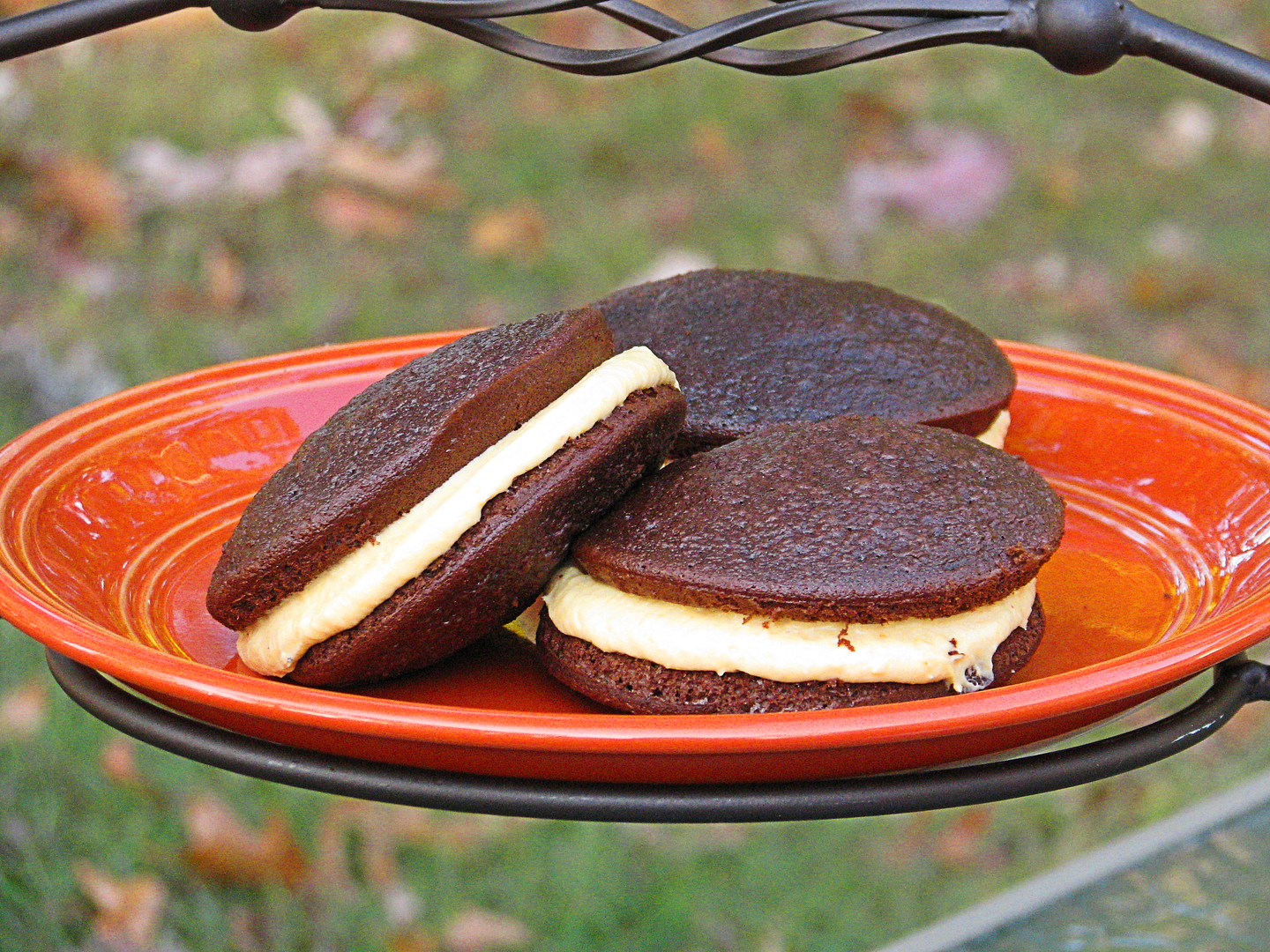 Chocolate Pumpkin Cake Pies
What you need:
I box cake mix
3 eggs
1/2 cup oil
1-1/3 up water
1 can icing (or your own homemade icing)
1/2 cup pureed pumpkin
1 cup powdered sugar
What to do:
Preheat oven to 35F.
In a large bowl, mix the cake mix, eggs, water and oil. Mix until everything is incorporated.
Using a whoopie pie baking sheet, fill each cup with about 2 tablespoons of batter.
If you don't have a whoopie pie baking sheet, use a regular baking sheet lined with parchment paper. Dropping 2 tablespoons of batter on a circle on the sheet for each pie.
Bake for 8-10 minutes.
Remove from oven, and place on cooling rack to cool.
Once cakes are cooled, start making the filling.
Combine, 1 can of vanilla frosting, 1/2 pureed pumpkin, and 1/2 cup powdered sugar. Depending on how thick you want the filling you may want to add the remaining sugar.
Mix until well combined. Spoon Icing onto the flat side of one cake pie and then press another cake pie ontop of the filling to make the sandwich.
🙂 Chocolate Pumpkin Cake Pies 🙂
I love finding new ways to use pumpkin.