Hey everyone! I've got a special guest today for you and I know you're going to love her as much as I do.
Her blog is full of delicious but healthy recipes including some yummy cocktail recipes!
Plus she always breaks down the recipes into calorie counts and weight watcher points!!
How awesome is that! She's also gotten me hooked on to the
Cooking Light
Website! haha Oh and she has the cutest little dog named Oliver! 🙂 Reminds me of my Jasper 😉
Be sure to go visit her over at
Eat Yourself Skinny,
I know that you'll fall in love with her and her site.
Check out these Mini Bacon and Egg Tarts that she is sharing with us today!
—————
Hello there lovely readers of Big Bear's Wife! I'm Kelly from
Eat Yourself Skinny
and I've been a
huge
fan of Angie's blog for a while now! If any of you are like me, you come across numerous blogs pretty much daily that you comment on, reply to various tweets and leave fun Facebook messages for them too. Then there are those
few
bloggers you meet that make you feel like they're you're next door neighbor and you pretty much become BFF's!
Yep that would be Angie.
Seriously she's one of the sweetest bloggers I know and I feel like I've really gotten to know her in these past few months. So you can imagine how excited I was when she asked me to guest post for her this weekend! I thought long and hard about what I would post for her and since this IS a Sunday post and one of my New Year's resolutions is to eat more breakfast, I thought I HAVE to post these Mini Bacon and Egg Tarts!
I got this recipe from my Cooking Light magazine and absolutely fell in love with them. They're bite-sized, yummy and contain every ingredient you could ever want in a breakfast…just perfectly portioned of course. These little tarts satisfy that gotta-go-to-IHOP-and-get-the-biggest-breakfast-sampler craving without all the unwanted calories.
Here see for yourself!
Mini Bacon and Egg Tarts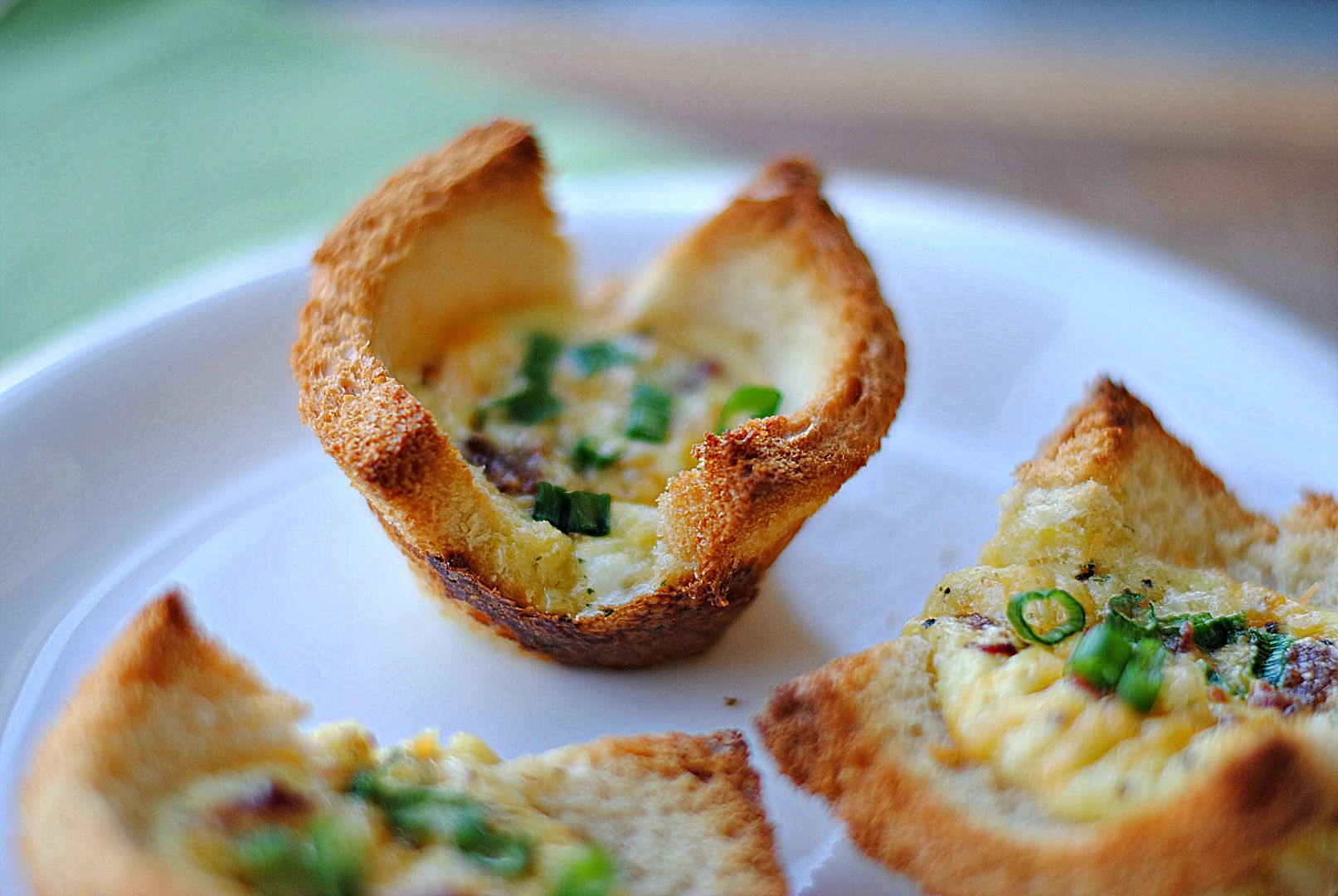 _________________________________
Servings: 4
Serving Size: 2 tarts
Calories: 316
Fat: 8.8 g
Carbs: 31.2 g
Fiber: 3 g
Protein: 18.3 g
Old Points: 6.6 pts
Points+: 8 pts
________________________________________
Here are your ingredients:
8 (1 oz) slices whole-wheat white bread, crusts removed
1/2 cup fat-free milk
4 large eggs, lightly beaten
2 Tbsp chopped green onions
2 slices smoked bacon, cooked and crumbled
½ cup (2 oz) shredded sharp cheddar cheese
Cooking spray
Preheat oven to 425 degrees F. Lightly coat both sides of bread with cooking spray. Press each bread slice into the cup of a muffin tin. Bake at 425 degrees F for 10 minutes or until bread is lightly toasted. Cool slightly.
Reduce oven temperature to 350 degrees F. Combine milk and eggs, stirring well with a whisk. Divide the egg mixture evenly among bread cups. Sprinkle onions, if desired, and bacon evenly over tarts; top each tart with 1 tablespoon cheese. Bake at 350 for 15 minutes or until set. Enjoy!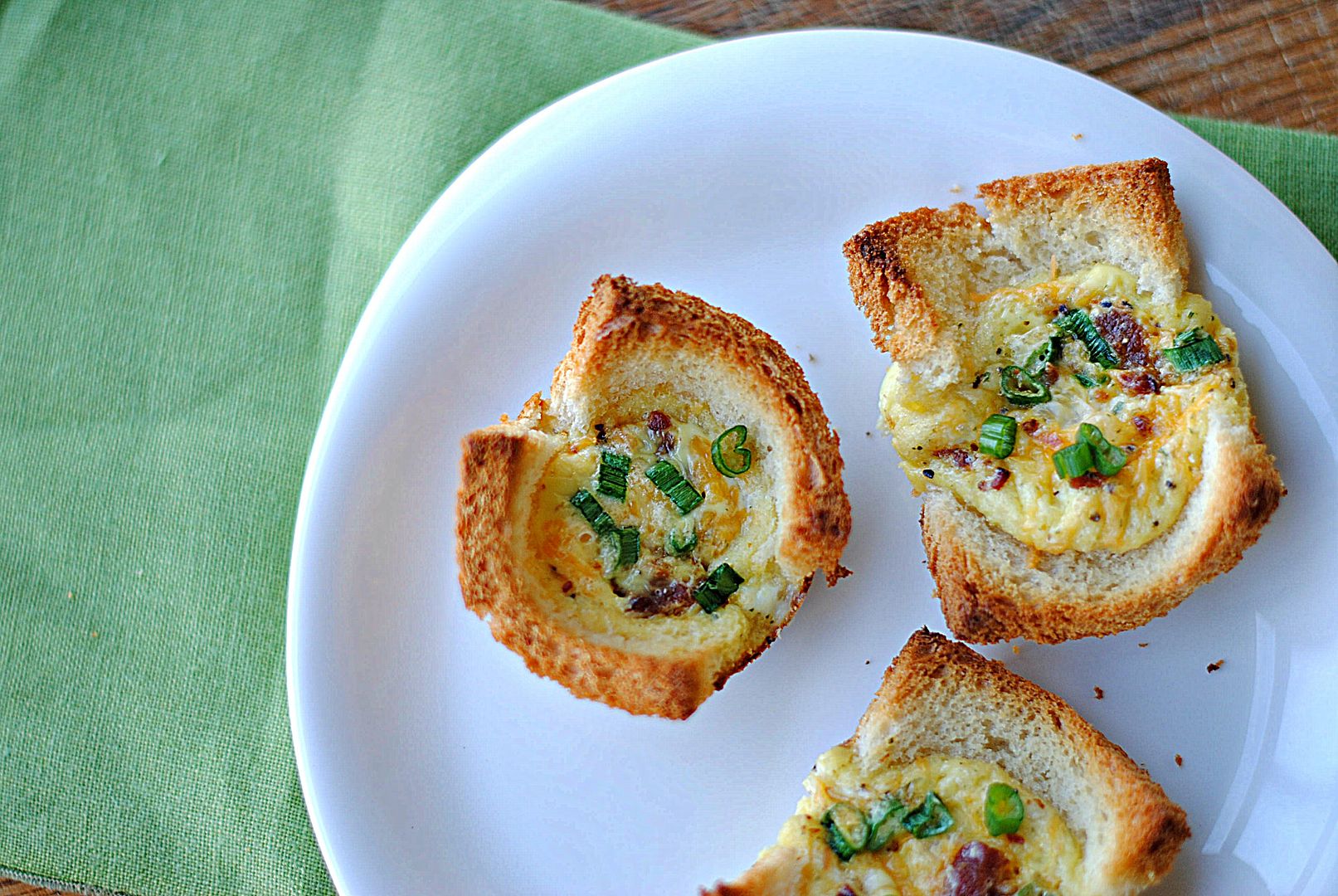 Thanks again for having me Angie! For more skinny recipes or if you just want to make a new friend, feel free to stop by my
blog
any time!
XOXO
—–
Hope you enjoyed meeting Kelly and getting this yummy recipe for Mini Bacon and Egg Tarts!
I also need to start eating breakfast more and I know these will be on our menu soon! They look so good!
Thank you Kelly for being a guest! HUGS!