Mini Clam, Tomato, and Spinach Pizzas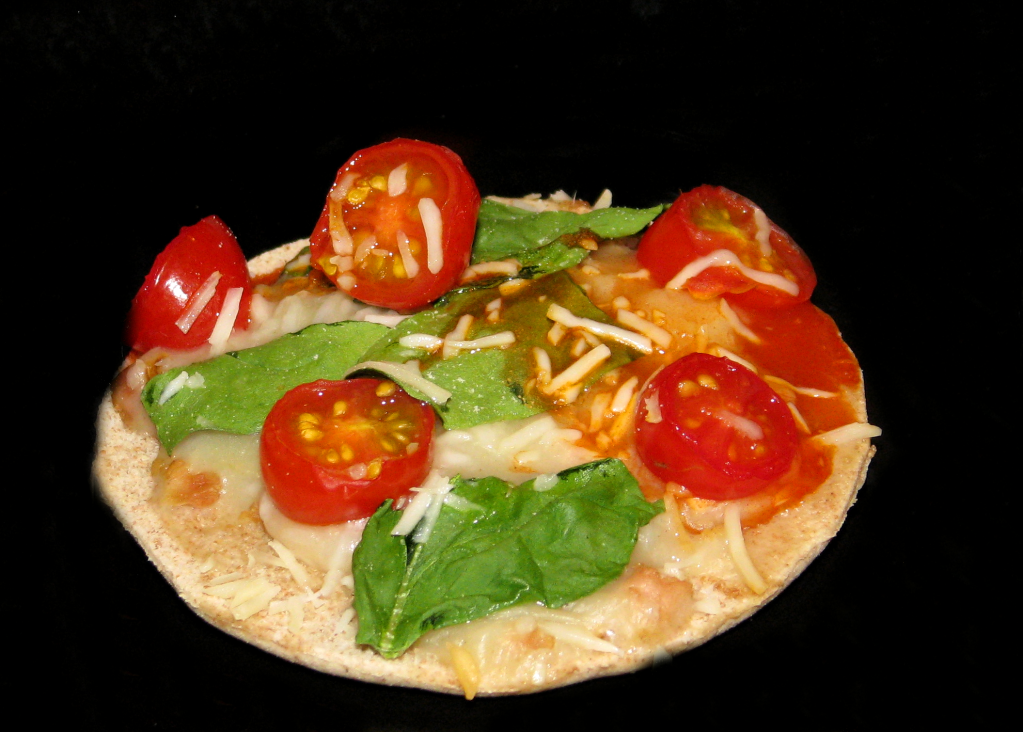 I'm not usually one to experiment in the kitchen. I love to cook and bake but I want to know what I'm trying to make is going to come out edible. haha
But I saw a commercial one day that was a mini pizza with sun-dried tomato, spinach laves and ricotta cheese (I think). So I had that in my mind when trying to come up with a light lunch one day while working at the house.
But of course I had no ricotta cheese or fancy sun dried tomatoes….so I had to improvise.
What you need:
Pepperidge Farm® – Deli Flats®
or any other flat bread
Clam Chowder Condensed Soup
(I used Campbell's, and used about 2 tablespoons of chowder per mini pizza.)
Spinach Leaves
Cherry Tomatoes
Shredded Cheese
Texas Pete (if you want a little heat)
What to do:
Preheat oven to 350F.
Pull Deli Flats apart and lay on a baking sheet. Spread 2 tablespoons of Clam Chowder Condensed Soup onto each slice. Sprinkle a little bit of cheese onto the chowder.
Top each bread slice with sliced cherry tomatoes, spinach leaves and a dash of Texas Pete. Sprinkle with a little more cheese.
Put into oven and let bake for about 5-7 minutes, or until cheese is melted and tomatoes start to wrinkle.
Remove from oven and let cool.
Enjoy!
Im linking to:
~Mondays~