{ Mini Taco Salads }
#SundaySupper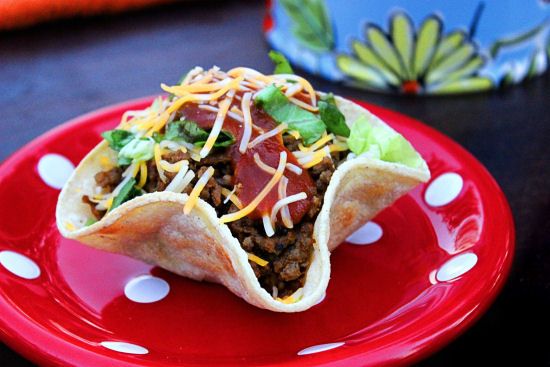 My earliest memories of Mexican food would have to be the lunch dates with my cousin Rachel. She was the one that got me hooked on it. Lunch Special #5 – Burrito, Enchilada, and Rice with a cheese dip. haha. It's pretty much the same thing I get every time I go to a Mexican restaurant. Rachel is also the 1st person I think of when someone mentions a Mexican restaurant. haha. I don't know why we loved it so much, I mean I know it was good, but we always ate there.
Me and Rachel 🙂 Our Beach Trip 2006
My brother is also in love with our local Mexican restaurant , he's been in love with them forever. He even tries to recreate the food at home. *currently he's working on perfecting the rice they serve at the Mexican restaurant, if you've got any tips for him send them my way*
Mom has even gotten into making Mexican themed food. One of the families favorites are taco salads. She even got those taco salad shell molds to use in the oven to bake tortilla shells to hold the taco salads.
So when Heather, from girlichef sent out that she was hosting #SundaySupper this week and that the theme was Mexican Fiesta (in honor of Mexican Independence Day) all kinds of Mexican dish options went flying through my head. Since I've already blogged about my favorite Enchiladas and Arroz Con Pollo dish, I kept thinking about the taco salads that mom makes.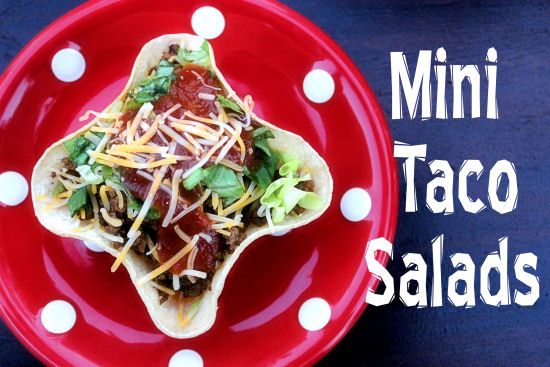 I didn't have taco bowls molds for the oven and since I wanted mini taco salads instead of huge ones, I did a little brain storming on what to do in order to make the taco shells. I remembered a picture I saw floating around the internet where someone had baked tortilla shells on the back of a muffin pan to make taco shells. So I did a little experimenting with tempature and times and was able to make cute little taco shells for these mini taco salads.
When I first told BigBear I was making taco salads with the mini taco shells, he wasn't so thrilled. I saw the look of "ooo yeah…….. taco salads… sounds…. um…. great" slide across his face. haha. But I was determined to make them because these little taco salad bowls were just too cute.
I made 3 little salad bowls for him, took them to him and he started eating while I was working on mine. Before I could get my salad bowl ready he was back in the kitchen hovering over me asking if there were any left. haha.
A total 360 in his attitude towards the Mini Taco Salads. He loved them.
Of course you don't have to use these little bowls for taco salads! You could fill them with Mexican rice or maybe beef and melted cheese for little nacho bowls….. or maybe cover them in cinnamon and sugar (with some melted butter) before baking them and use them as little ice cream bowls? I'll have to experiment with that.
I used corn tortillas for these mini taco bowls.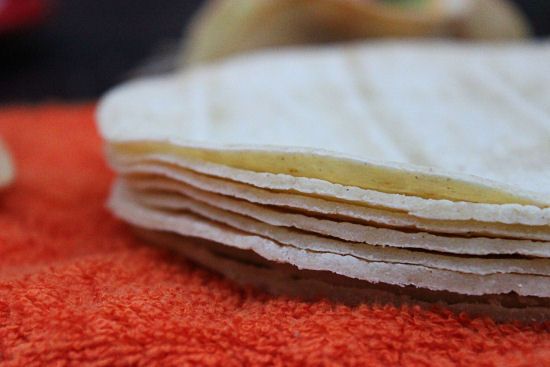 Here are what they look like going into the oven: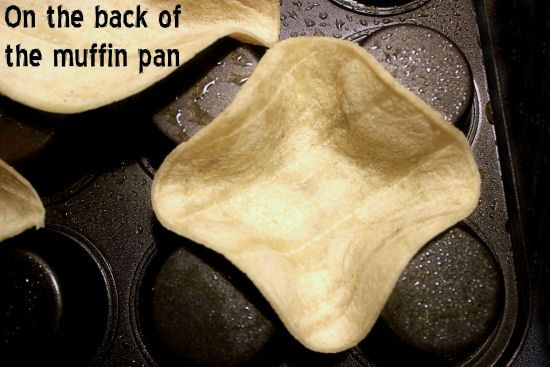 (Printable Recipe Here)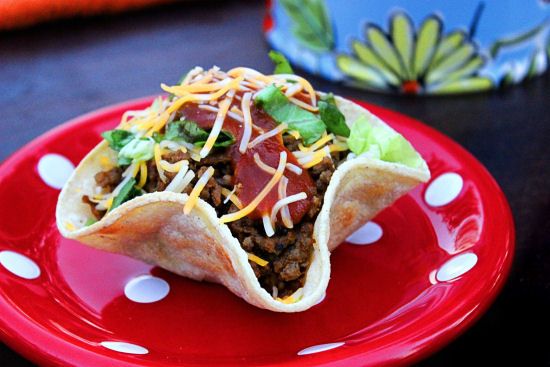 Ingredients
8 (six inch) 6″ corn soft tortilla shells
1 pound ground beef
4-5 tablespoons taco seasoning
1 cup shredded cheddar cheese
1 cup shredded lettuce
1/2 cup taco sauce
(any other taco salad toppings you'd like)
Instructions
Pre-heat oven to 350F.
Wrap tortilla shells in in a damp paper towel and microwave for 20 seconds. This will make the shells flexible.
Spray the back of a muffin pan with non-stick spray. A normal muffin pan will hold/bake 3 shells at one time. Lay shells over bottom of muffin pan, space them out over the bottom of the pan. Press the shells down into the groves to form a cup. (See photos for example)
Bake at 350F for 10-12 minutes. *continue to do this until all bowls are baked*
Brown beef in a large skillet. Once brown, add taco seasoning and stir. Drain grease.
Fill taco shell bowls with beef, cheese, lettuce, taco sauce.
Details
Yield: 8 mini taco salads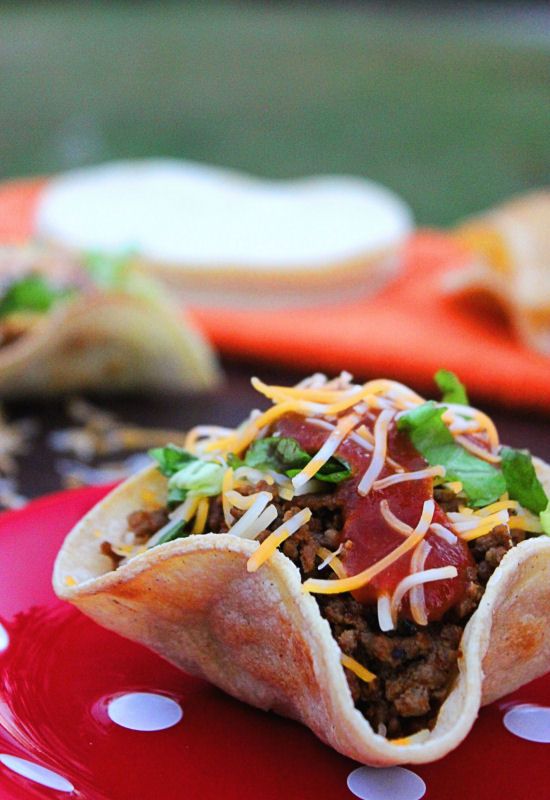 Join us this week Around the Family Table for #SundaySupper! That fun starts at 3pm EST with these fabulous recipes being showcased and ends with our #SundaySupper live chat at 7pm EST.
Sopas (Soups), Ensaladas (Salads), and Entremeses (Starters)
La Comida (the food)
Postres (desserts)
Bebidas (beverages)